---

---

---

Hours
​Monday, Wednesday, Friday
9:30-5:00
Tuesday, Thursday
1:00-7:00
Saturday
9:30-1:00

Closed on Sunday & most federal holidays

---
NEW Books arrive early each month...and the newsletters heralding their arrival can be
​e-mailed right to your mailbox!
SUBSCRIBE to one (or several) of our monthly newsletters. Be one of the first to know what new & exciting things we have in our collection for your borrowing pleasure. Click the select reads icon to the left to sign up to receive a copy in your e-mail.
---
---
​Pushing the Limits, an exploration of science through books, film & discussion
Saturday, March 11 Saturday, March 25 @ 11:00am

There is still plenty of time to join Pushing the Limits, an exploration of science topics through books, film & discussion. Join in the discussion of Saturday, March 25 at 11:00 when we discuss Erik Larson's Thunderstruck. Copies of the book and program materials are available at the library.
We will wrap up our discussion series, led by Matthew Weidemann and Bob Pease, with a look at survival as explored in Clive Cussler's Arctic Drift.
This national program has been developed by a team of library professionals, scientists, and filmmakers. Their organizations include Dartmouth College, the Association for Rural and Small Libraries, the Califa Group (a California-based library consortium), Dawson Media Group, and Oregon State University-- with generous funding from the National Science Foundation.
The program is free and open to the public. A light lunch will be served.
---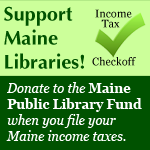 ---
---
Maine Mystery Author Robert Bruce Coffin
Thursday, April 13 at 6:30pm
Bruce Robert Coffin is a former detective sergeant with more than twenty-seven years in law enforcement. At the time of his retirement, from the Portland police department, he supervised all homicide and violent crime investigations for Maine's largest city. Following the terror attacks of

September 11th

, Bruce spent four years working counter-terrorism with the FBI, earning the Director's Award, the highest honor a non-agent can receive.

He is the author of the Maine Sunday Telegram #1 bestselling debut novel

Among the Shadows

, the first in the Detective Byron Mystery Series from HarperCollins.
---
---
---
Great American Bestsellers; The Books That Shaped America
The North Berwick Historical Society and the D.A. Hurd Library are joining together for a series of discussions based upon the Great Courses video lecture series
Great American Bestsellers: The Books That Shaped America.
The next discussion will be Wednesday, March 22, at 2:00pm in the library
---
---
---
---
---
We strive to uphold the standards and policies of: